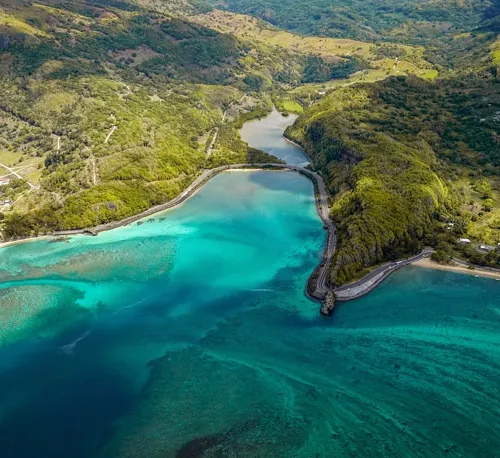 What if you decided to leave your living room to telework on an island in the heart of the Indian Ocean, 10 minutes from the turquoise lagoon and crystal clear waters?
Going to Mauritius means choosing an exceptional living environment, a climate that hardly differs in summer and winter, and choosing a more natural daily life.
Are you still hesitating? Not for long!
1/ Warm welcome of Mauritians ❤️
You will feel at home in Mauritius, very famous for its welcoming and always smiling inhabitants. If you like peace, this is the destination for you. Upon arrival, you will immediately fall under the spell of the "Mauritian smile" and will not doubt their hospitality.
2/ Paradise landscapes 🏝️
Located in the heart of the Indian Ocean, elected as a charming destination, Mauritius is not just an island; it is a natural paradise island: sea, coconut trees, fine sand beaches, tropical climate, wild waterfalls, dense forests, and mountains. You will have understood, choosing Mauritius for an exile that is exotic, pleasant, and ideal for nature lovers.
3/ Culture 🎊
Mauritius is a very mixed island, an undeniable melting pot of communities providing an explosion of culinary flavors, music, religions, languages, and traditions. You will not be disappointed if you look for cultural diversity as Chinese, Indian, Creole, and Western cultures mix, making Mauritius a colorful island.
According to the locals, you will give us news about pineapple sprinkled with chili, a local specialty not to be missed! 🍍
4/ Life on site 📍
Mauritius is a very safe destination, as much by the living environment and access to local infrastructures. Indeed, the latter is very modern, and the hospitals are renowned for the outstanding quality of their services. If you go with your family, you will find many public and private schools.
If you decide to live the Mauritian way, buying local products, Life on the spot will not cost you much. On the other hand, if you opt for the French way of Life because you cannot do without French wine and cheese, the cost of living will be higher.
5/ GRAND BAIE
Very popular with Mauritians and expatriates, Grand Bay is a fishing village where you will find a very excellent quality of life. You can do everything in Grand Bay, telecommute during the day, practice water sports after a day of work and enjoy the sunset at night on the beach.
If you want to expatriate with your family or are looking for new activities during your free time, this is THE ideal destination: sailing, swimming, windsurfing, or diving; there is something for everyone in the crystal clear waters of the Indian Ocean.
Grand Bay is a very lively village with its famous marina, many stores, friendly restaurants, handicrafts, and white sandy beaches.
Don't forget to try the transparent boats to admire the sea bed, but for an unforgettable experience, take a submarine where you can dive among the tropical fish!

#telework #mauritius #teletravel