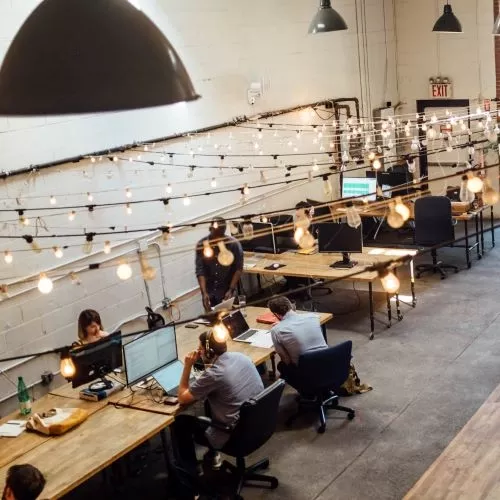 Since it is a thriving way of working, coworking takes a particular spot in coworkers' daily
lives attending those third places. It is, then, a central element of the Holiworking adventure.
If coworking allows for a unique work experience (but not only!), it is also even truer during a short expatriation. It is an indisputable asset, not only for the collaborator but also for their employer.
Let's discover, together, its advantages:
1/ Break Up Isolation by Working in an Environment Conducive to the Well-Being of the Professional Mission
Working alone from one's own place can be rather difficult and does not fit every collaborator. This feeling of isolation indeed has direct consequences on collaborators' quality of work and motivation.
Coworking allows us to find back these stimulating interactions necessary to the well-being of the collaborator's professional mission. It offers a professional ecosystem away from home and proper working conditions: workplace, adapted tools, etc.
2/ Reinforce Motivation and Commitment
Even if coworkers do not work in the same fields, their exchanges facilitate mutual improvement, synergies, and skills combinations.
Broadly speaking, goodwill, which allows everyone to help one another, is the keyword. This 'good atmosphere' allows coworkers to feel just right, feel the wish to spend time there, and create a friendly competitive spirit, giving a good motivation boost.
3/ A Flexible Working Space
Thanks to coworking, collaborators can work in an equipped and dedicated working space with their own schedule (agreed on with the employer). Coworking answers collaborator (and their employer)'s expectations since they are provided with open spaces, private offices, and videoconference rooms depending on what they need.
3/ Ideal Space for Professional and Personal Networking
Coworking rhymes with collaborating and socializing. It is the perfect spot to have casual conversations with other professionals with different backgrounds and experiences as a natural meeting place.
This ecosystem helps collaborators' personal and professional fulfillment and allows them to be part of more than just a professional community.
Afterworks, workgroups, events of all kinds organized within or by members of the coworking place are common occurrences. As part of a short expatriation, coworking allows one to step right into this new daily life and assures a quick and smooth immersion.
Thus, coworking has a special place in the Holiworking experience that nourishes all the collaborators' professional and personal components.
#coworking #motivation #softskills