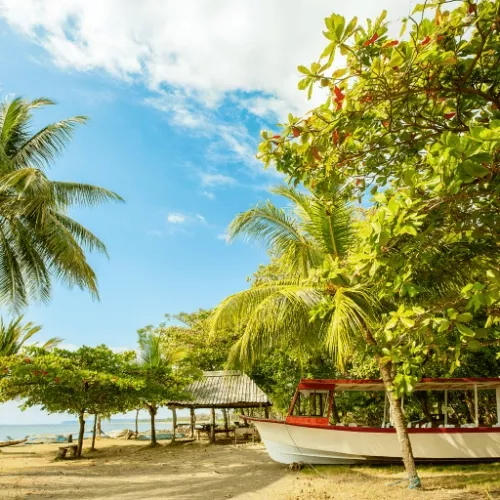 After Mauritius, we head west for our "world tour." The unique biodiversity in the world, between the Caribbean Sea and the Pacific Ocean, keeps your eyes wide open. Welcome to Costa Rica, the nugget of Central America.
Appreciated by the amateurs of outdoor activities, the "Switzerland" of Central America welcomes you in its unique natural setting. Well-known to digital nomads, Costa Rica offers an ideal living environment, combining safety, convenience, quality of service, authenticity, and blazing nature.
Embark for Samara and telework in an open-air oasis, with biodiversity unique in the world.
1/ Green Eldorado
The country's slogan could be "a country where life is greener." As soon as you leave the outskirts of San Jose, a human-scaled capital city, you are immersed in a luxuriant nature.
A pioneer in environmental protection, the country has made its preserved nature and exceptional biodiversity a showcase on the international scene. This attraction has continued growing over the years since Costa Rica, home to 6% of the world's biodiversity, reveals new previously unknown specimens.
This avant-garde approach to the environment and its preservation will accelerate in the future since Costa Rica has announced a plan to make its state the first country in the world to achieve carbon neutrality in 2020.
2/ Peaceful daily life
With its dream spots, excellent quality of life, and rhythm far from the frenzy of the metropolises, it is not surprising that the country has become the resort of many digital nomads in search of a balanced daily life.
Life in Costa Rica can be summarized in one term: Pura Vida. Pura Vida mainly refers to the Costa Rican approach to life: relaxed, easy-going, slow-paced, with a warm and friendly attitude. It means "pure life" or "simple life," but locals use it to say hello and goodbye and express that everything is fine. The best example? Costa Rica is the happiest country in the world - what else?
Add year-round tropical temperatures, breathtaking beaches, lush jungles, and rich and diverse culture, and it's no wonder digital nomads embrace Pura Vida.
It's no coincidence that Expat Insider ranked Costa Rica as the 3rd best place to live in its InterNations Expat 2021 survey.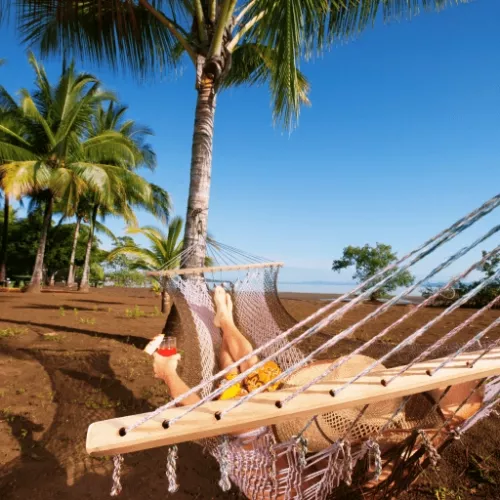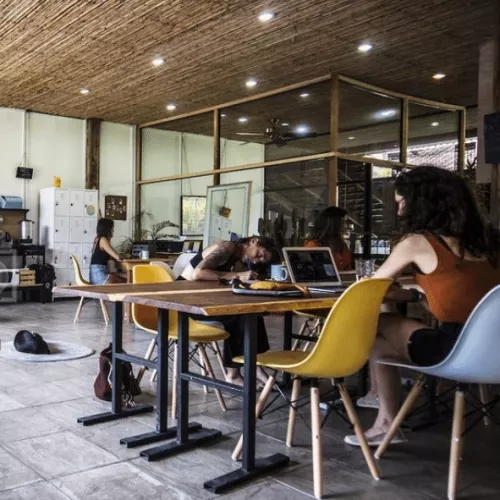 3/ Work/life conditions adapted to digital nomads
Forget the cliché of a country for elders - Costa Rica has become a reference for digital nomads thanks to its varied offer of workplaces (coworking in particular), its internet network quality, and the possibility to travel easily in Central America due to relatively cheap flights.
Moreover, medical care, the health system, and health insurance are globally affordable and efficient, which in Latin America is rare enough to be underlined.
Samara, a small seaside town chosen by Holiworking, is the ultimate destination for digital nomads who love beaches, surfing, or yoga. Known as an "eco-responsible" city, it offers a lush nature and a community respectful of its ecosystem.
If you are looking for a peaceful daily life, want to work from a coworking space with a sea view, and learn to surf after work, Samara is the place to be to experience, Pura Vida.
4/ Outdoor playground
If outdoor activities are your favorite hobby, look no further, Costa Rica is for you. The country has focused on a unique range of activities for adventure and outdoor sports travelers.
Costa Rica invites you to adventure from its dense rainforests to its raging rivers and massive volcanoes. Trekking, hiking, rafting, diving, surfing, mountain biking, canyoning, and exploring national parks will keep you busy throughout your Holiworking experience.
Ready to go?