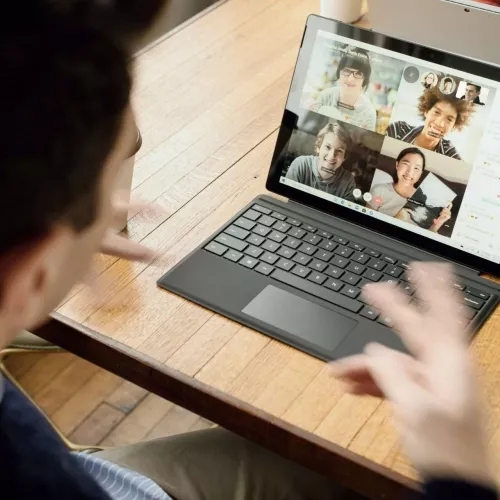 Since the creation of the startup, the Holiteam is in full remote; Gaël Brisson had decided to propose to the collaborators to be in teleworking, even before the virus came to upset our daily life. Holiworking is not one of those companies forced to adopt remote working overnight. On the contrary, we are convinced of the (many) advantages of teleworking, we have tested it, and above all, we have approved!
We reveal to you our different ways to make 100% telework a 100% efficient organization mode.
1/ How does 100% teleworking work at Holiworking?
Generally, we start our working day at 9 am, everyone is free to organize his schedule when he wants, but trust is essential. If we're going to do a sports session to motivate ourselves or do our shopping during our lunch break, it is possible; we just have to inform the team of our unavailability.
We also have at our disposal a coworking space from which we can telework. On Mondays, we telework at home; on Tuesdays, we work in a coworking space to exchange with other coworkers, open spaces because, at Holiworking, we love to work in co-construction mode and private offices for our video calls.
2/ Our tools to stay organized at a distance.
Full remote requires rigor and organization; 3 of our tools have quickly become our best friends daily:
📢 A common chat
Even (and especially) at a distance, it is essential to communicate, greet each other in the morning, send positive vibes to the team, and say goodbye in the evening! Because just because we telecommute 100% doesn't mean we never disconnect (even though we love our jobs 😉 ).
📁 A file storage space
We have a cloud to store all our files. Can you imagine how complicated and a waste of time it would be to find our documents via chat or other secondary communication channels? Plus, it's way better stored than a closet in an office.
📆 An online agenda
Our third "best friend" is our online agenda; all team members can see each other's appointments; it's handy to organize standard video calls and inform our holimates of our appointments.
3/ How do we keep our team cohesion?
As you can see, at Holiworking, the exchange is the keyword. But it's still nicer to see our faces, so we prefer video conferences to phone calls. Each video we do together is a dose of motivation and energy!
We also use an extra-professional chat, which we could call "the digital coffee machine" when we are not at the coworking, ideal for gossip or organizing after works 😉
4/ Shared values
The majority of Holiteam members are former expatriates, convinced of the benefits of expatriation. Travel is at the heart of our daily interactions (even when telecommuting 😉 ), a real boost and source of motivation. The belief in our project makes the Holiteam a solid and always positive team with shared values.
Monday morning is never sad at Holiworking! 🌞

#teletwork #teamspirit #coworking