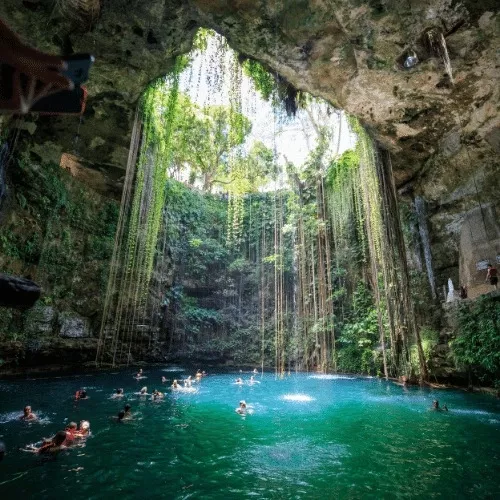 If you plan to become a digital nomad in Yucatan, you are in for a treat! Merida is one of the best destinations on earth for digital nomads! A paradise on earth with countless places to visit, starting with the cenotes.
Filled with crystal clear waters and surrounded by lush flora, the cenotes are a must for visitors to Merida and the Yucutan.
These natural "pools" are ideal for relaxing, swimming, and spending time alone or with friends. Thanks to their natural filtration system based on limestone, swimmers/divers enjoy incredible visibility to observe these aquatic wonders.
1/ What is a cenote?
The word cenote comes from the Mayan "ts'ono'ot" which means "cavity with water." They are chasms or sinkholes, totally or partially filled with water. The Yucatan Peninsula is full of caves. The cenotes are formed there following the collapse of their upper part (the roof). Once collapsed, the cenote is exposed as an open or semi-open pool. Nevertheless, there are some underground cenotes.
The Yucatan is largely composed of limestone, a fragile material whose upper layers can easily collapse over time. This phenomenon, combined with many caves, explains why there are more than 6,000 cenotes in the Yucatan Peninsula alone.
2/ Cenote and Mayan culture
Before the Christianization of Mexico, the Maya gave a sacred character to the cenotes, which were their only reserves of freshwater. Sacrifice being an integral part of the Maya culture, they used them for certain rituals such as the Chen Ku, which consisted of throwing sacrificial victims into its waters.
The remains of this cultural heritage have an important historical and scientific value. They are protected by the Convention on the Protection of the Underwater Cultural Heritage. Therefore, each cenote is considered a sacred site and must be respected during visits.
3/ How much does it cost?
The entry price to the cenotes varies depending on whether a tourist guide is required or not. The price goes from 80 to 300 Pesos, about 3.5 to 13 €. However, for those who wish to visit the cenotes as a tourist, you will have to pay twice as much, about 700 pesos, 30 €.
The use of sanitary facilities and other life jackets is often charged in addition, between 1 and 2.5 €.