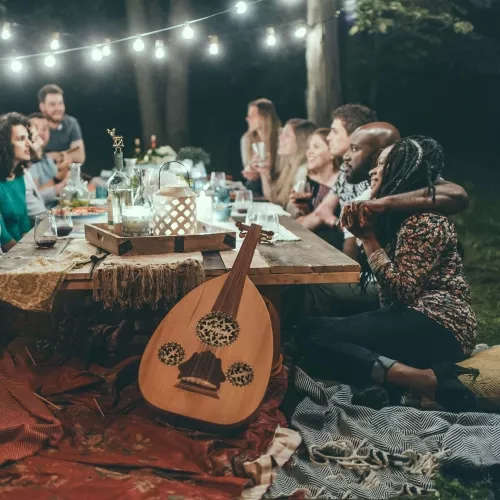 The choice of accommodation is an essential step in an expatriation project; there are several criteria to consider depending on your expectations. Even if your comfort must remain your first concern, it is also essential to choose an accommodation that suits you: living in a community, living alone and independent, or immersing yourself in the local culture? We give you the advantages of each type of accommodation to help you in your search for lodging.
1/ Living in coliving
Having your independence in a private space, isn't it great?
You have your bedroom and bathroom, but you'll love sharing your meals in the big kitchen, in the living room, or on the terrace with your roommates. Plus, you get to live in a larger, warmer living space than if you were living alone.
Living in a community
Make breakfast while enjoying the good mood of your roommates in music,
Looking forward to meeting them after a day at work for a movie night in the living room,
To improvise a barbecue on the terrace and taste the local flavors of each roommate,
Going out to party in the neighborhood and meeting up with locals,
As you can see, coliving is all about sharing, exchanging and meeting people.
A pleasant "all-inclusive" living environment
Coliving is the advantage of accessible housing at an attractive price and access to many services (some of which we would be hard-pressed to do without 😉 ): utilities, housekeeping, gym, terrace, garden, movie theater, Netflix, movie theater, etc...
2/ Lodging with the locals
Living with the locals
When you decide to live with a local, you are no longer a simple visitor; you choose to adopt the codes and customs. You follow the rules of the house (with pleasure, of course!), and you accept to shake up your habits to discover new ones.
For example, at a restaurant, even abroad, you don't take too many risks and choose the dish you like. But when your host decides to let you taste the local cuisine, you don't have much choice, and you have to please him. Besides, you might be surprised by the culinary discoveries you will make!
Meet unexpected people
You choose more or less who you want to stay with for a few months, but it is challenging to identify the person or persons who will host you. Staying with a host family is also a way to leave your comfort zone, to live with people you never imagined you would meet, and to share the intimacy of strangers who will very quickly become your family.
Discover the country and discover yourself
Living with a local is an opportunity to discover the country in length, breadth, and depth thanks to the precious advice of the locals: the best restaurants, the many unusual spots, or the landscapes and activities unknown to tourists, what a chance!
3/ Opt for an individual home
Live in peace and recharge your batteries.
If you like to live your own quiet life when you come home in the evening, it is evident that individual housing (apartment or house) will suit you perfectly. It is pretty normal to prefer to meet people and have your own tiny "home." If you need a change of scenery, you can live in the city in France and choose a home that is closer to nature abroad, and vice versa. You can also afford a larger, more luxurious space for the same rent you would pay in France.
Discover daily life on your own
Living alone also means living your life at your own pace, as you see fit, and dealing with the same issues as "everyone else" on your own. You can have dinner in a typical local restaurant and go home when you want; you don't depend on anyone.
Living with your family
Expatriating as a family requires more organization and comfort than if you were traveling alone; it's hard to imagine living in a community with your kids (even if it must be great 😉 )! Renting an apartment or a house for a few months allows you to offer the family cocoon's comfort and live the expatriation with your children fully.
(Pssst! Holiteam helps you find your accommodation! 😎)
#expatriation #housing #coliving